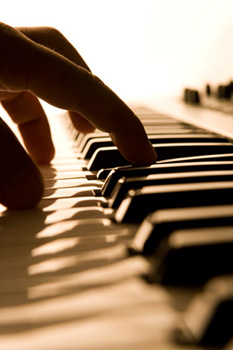 Music @ MCCK
Music is a vital part of MCCK's mission and ministry. We are all participants in the music ministry, whether we sing in the choir, play an instrument, sing from the hymnal, or listen attentively. If you would like to be more involved, here are some ways:
Choir - The choir is the core ensemble of the music ministry at MCCK, providing musical leadership at worship services for a large part of the year (we take the summer off). The choir also presents special performances for Christmas, Easter, and other occasions. Rehearsals are currently on Wednesday evenings at 6:30 pm and Sunday mornings at 10:00 am during the school year.
Solo Vocalists
Cantors - Lead congregational singing, sing solo verses on hymns, litanies, Psalms, and other service music.
Soloists - Perform vocal solo literature of any genre for services and special programs. We rely on soloists heavily throughout the year, but especially during the summer when the choir is on break.
Instrumentalists/Worship Band - Do you play an instrument? Instrumentalists are always welcome to play during our worship services, either as part of an ensemble or as a soloist for an offertory or prelude. We are looking at the creation of a worship band (guitars, keyboards, drums, wind, and string instruments) to be a regular part of our services.
Interested? Please contact Minister of MusicThis email address is being protected from spambots. You need JavaScript enabled to view it. or the This email address is being protected from spambots. You need JavaScript enabled to view it. for more information.